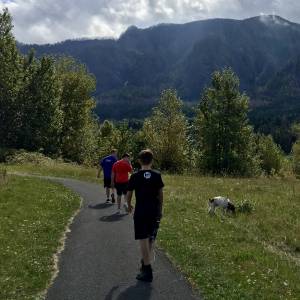 When it comes to wellness, parenting and business planning, it always helps to walk your talk. In our family this plays out literally when we take our teenagers and our dog Cooper out on hikes. It's what we like to call, "Forced Family Fun."
We carve a weekend afternoon out of our busy family schedule and drive to Portland's Forest Park, Mt. Hood or the Columbia River Gorge for a walk in beautiful places with no screens or interruptions. Cooper is always happy to join us and our kids know that there is likely a root beer or ice cream treat at the end.
Similarly, when we tend to business planning through retreats and meetings, it might also feel like "Forced Family Fun." It is hard to make time for it among other competing priorities, but we know it is good for us (and there might be treats involved!)
This month I'm facilitating an online three hour retreat for two lawyers in a small firm.  They want to focus on wellness as a value for themselves personally and for the firm. It has been interesting and fun to translate the customary "in person" retreat experience into the digital realm. We will have time for reflection, writing, sharing and deliverables. In my facilitated retreats, there are always deliverables. It is important to capture the value of time spent at retreat and bring it back to the office in tangible ways that advance the priorities and goals of the participants and the firm.
As I prepared for that retreat I realized I was overdue for my own retreat. Usually, I take a day in early December to review the year's accomplishments, and update my business plan and marketing strategy. But last December, I was dealing with my mother's recent ovarian cancer diagnosis and treatment, my eldest's first year away at college, and a big family vacation over the holidays. My own business planning got lost in the press of other priorities. And then COVID hit in early 2020, and we were all just trying to keep our heads above water. I turned my attention to supporting clients and offering CLEs over the spring and summer.
Last week, finally, I saw some time open up in my schedule and I grabbed it. I spent an entire day in retreat mode. I didn't go anywhere, I just closed my e-mail and calendar apps and immersed myself in reflection and planning at my desk. It worked! I feel more on top of my progress and priorities for the coming year. There is more work to do, but feeling oriented and having a plan and process helps.
If you are due for a retreat, don't delay! I offer retreat facilitation services for solos, small and mid-sized firms and practice groups. After a consultation meeting via phone or Zoom, I'll follow up with a custom retreat proposal. Then we'll schedule one or more retreat planning meetings, and I'll prepare a retreat outline, agenda and materials. I can facilitate retreats in person (subject to Covid-19 safety practices) and on line.
To learn more, contact me at 503-734-7232 or heather@tcbcoaching.com
And check out the Retreat page on my website: tcbcoaching.com/services/retreat-facilitation