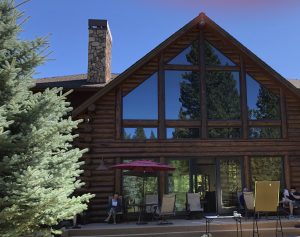 I recently designed, planned and facilitated a nine attorney retreat for the Portland law firm, Richardson Wright LLP.  We paid specific attention in planning in light of the COVID-19 pandemic, being careful to observe requirements for small group gatherings in our area. The retreat setting was entirely outdoors with ample space for participants to spread out. Each participant (and their household) was healthy, and we had hand sanitizer and face coverings available for use as needed. We thought through the retreat program and format to make sure it allowed for and encouraged participants to keep a six foot distance from each other at all times. Since we were outdoors, there were no slides or screen projection. We used hand sanitizer and paper handouts instead. With the exception of some wind, the weather cooperated and we had a great time!
After planning for all of the physical considerations, we turned our attention to program planning.  We wanted to focus on personal and firm values as a guide to building on and deepening the firm's strong sense of community and collaboration. Participants had time for quiet reflection and writing, small group discussion and large group discussion to discern, consider and collect ideas to take back into the office after retreat. The retreat was a success!
"Heather did such an outstanding job facilitating our firm retreat. She prepared a program that was well organized, collaborative and meaningful. Heather has a talent for bringing out the best in all of us. She made it fun while at the same time providing productive content. We all came away feeling energized and grateful!"  – Bonnie Richardson, Managing Partner of Richardson Wright LLP
Firm retreats represent a huge investment of firm resources. There are costs for renting facilities, buying food and drink and hiring a facilitator. But also, perhaps most importantly, participants are taken away from the office and their family/personal life. Thoughtful retreat planning and facilitation are necessary to help make the best and most efficient use of the firm's and participant's resources. And it would be all for naught if the retreat experience stayed at the retreat! As a retreat facilitator, I help planners think about the desired retreat outcome first. Why are we having this retreat? What do we hope will come of it back at the office? What are we committing to do at the retreat and afterward with what we learn?
I offer "Retreats that Lead to Action!" because in addition to community building, retreat clients need a useful and utilitarian outcome from a retreat.   Once we understand why we're having a firm retreat and what we hope to get out of it, then we build a retreat schedule and facilitated program around the desired outcome. I collaborate with firm retreat planners on program design and materials, then facilitate the retreat program to support the participant's experience. I always want retreat clients leave with ideas and action items to implement back at the office. I am happy help further this with post-retreat Implementation Meetings to support the integration of new learning and plans into day-to-day operations.
Retreat planning services are always customized to meet client needs. For example, I was recently contacted about conducting an on line/videoconference retreat for a small firm. Yes! We can totally do that. Clients can choose from stand-alone services or combine them for design of retreat schedule, program and materials, in person or on line retreat facilitation and post-retreat implementation meetings.  Getting started is easy. Contact me to schedule a free Retreat Consultation meeting, after which I'll send a custom Retreat Proposal: 503-734-7232 or
heather@tcbcoaching.com